The River Basin Center works in three broad areas: a) Conservation of ecology of aquatic ecosystems; b) Applied research on aquatic system stressors and development of appropriate management tools; c) policy development and outreach.
With over 60 affiliates from 19 different University of Georgia units, and $2,900,000 in active grants from external funders, these projects represent a small array of our current and past work.
To learn more about River Basin Center research or request a project description of your own work, email sarah.buckleitner@uga.edu.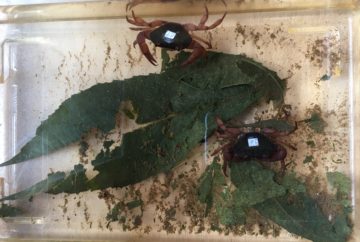 Freshwater crabs play an important role in the breakdown of nutrients from natural materials that fall into streams, but few studies have looked into exactly how their relationships with other detritivores and the leaf litter itself impacts ecosystems.