The River Basin Center works in three broad areas: a) Conservation of ecology of aquatic ecosystems; b) Applied research on aquatic system stressors and development of appropriate management tools; c) policy development and outreach.
With over 60 affiliates from 19 different University of Georgia units, and $2,900,000 in active grants from external funders, these projects represent a small array of our current and past work.
To learn more about River Basin Center research or request a project description of your own work, email sarah.buckleitner@uga.edu.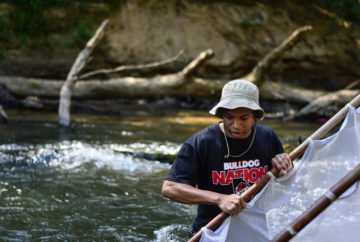 River Basin Center researchers monitor how urban aquatic insect communities change over time.