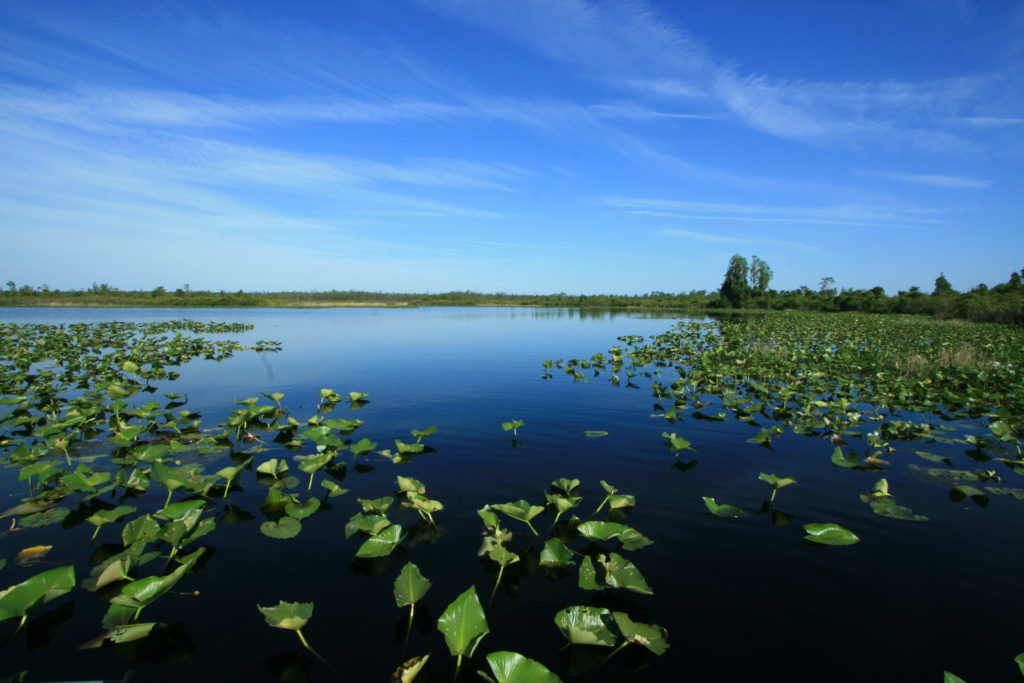 Photo by Alan Cressler via Flickr. Location: Okefenokee National Wildlife Refuge, Charlton County, GA. 
The state of Georgia is home to 14 unique river basins that support communities through rich biodiversity, vital ecosystem services, and beautiful natural spaces. The 14 basins of Georgia are: the Altamaha, the Chattahoochee, the Coosa, the Flint, the Ochlockonee, the Ocmulgee, the Oconee, the Ogeechee, the Satilla, the Savannah, the St. Marys, the Suwannee, the Tallapoosa and the Tennessee. Some of these fall entirely within Georgia's borders, while others overlap with neighboring states of Alabama, South Carolina and Tennessee.
The basins of North Georgia drain the foothills of the Appalachians, creating stunning waterfalls and rock formations. The basins of Middle Georgia are popular for paddling and recreation, support some of the highest aquatic biodiversity, and are vital to water supply sources for Georgia communities. The basins of South Georgia are characterized by calm waters and broad floodplains, and flow towards Georgia's charming coastal barrier islands.
Below you can explore each of Georgia's river basins, from the Blue Ridge Mountains to the Atlantic coast, including conservation resources, recreation information and educational materials that have been compiled by the UGA River Basin Center. 
This resource was created by Olivia Allen, RBC undergraduate intern from 2021-2023. These pages are a living resource that we hope to add to over time. Please contact Cheryth Youngmann (cheryth.youngmann@uga.edu) to suggest additions.