UPDATED Jan. 27, 2023: The run will now begin at the Odum School of Ecology. See map and directions.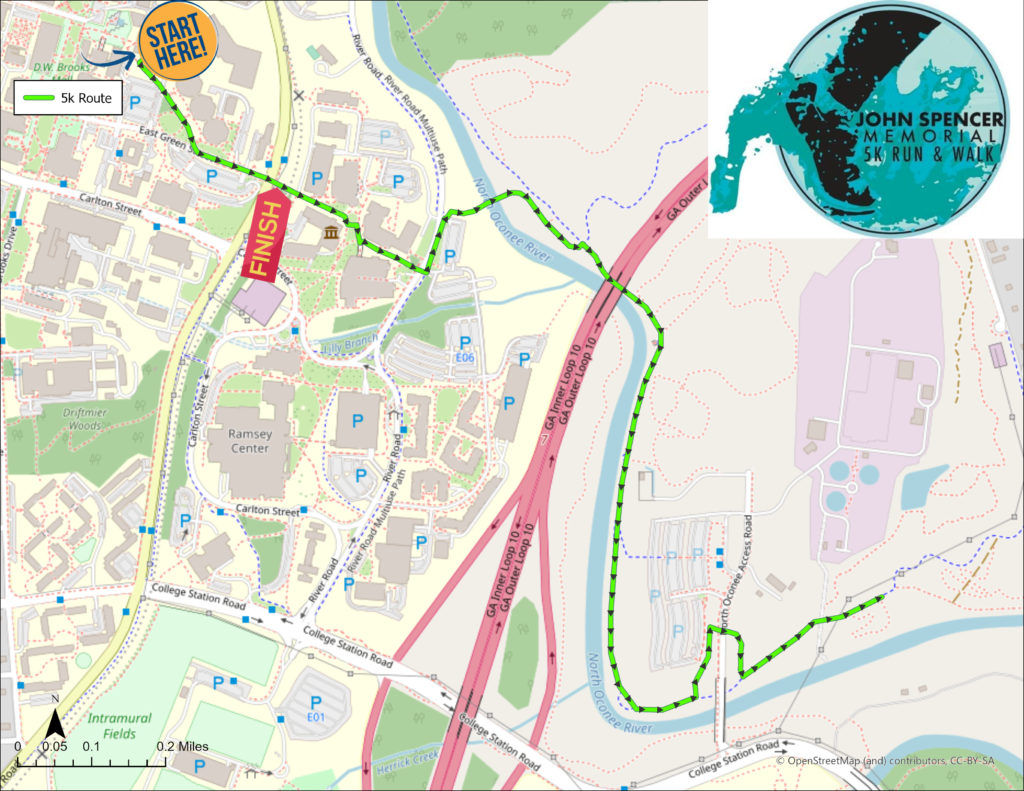 Written directions:
From ODUM, follow sidewalk to GREEN STREET, follow to STOPLIGHT at E Campus Rd, and cross safely to SPLIT SCREW
Cross bridge over railroad, and follow sidewalk past Georgia Museum of Art in between Lamar Dodd and Hugh Hodgson Schools of Art and Music to River Rd towards GREENWAY BRIDGE OVER OCONEE
Cross GREENWAY BRIDGE OVER OCONEE, turn right, and go under GA-10 LOOP. Continue on the Greenway until the TRAILHEAD/BUS STOP.
From the TRAILHEAD/BUS STOP, take the crosswalk straight across N OCONEE ACCESS Rd to the adjacent GREENWAY.
Continue down the sidewalk to the GREENWAY, and take a left to the TURN AROUND.
High-five whoever is there, turn around, and reverse the course:
Go back down GREENWAY, take a right up the sidewalk to N OCONEE ACCESS Rd.
Cross safely to the TRAILHEAD/BUS STOP and continue back along the GREENWAY.
When GREENWAY goes under GA-10 LOOP, take LEFT to cross GREENWAY BRIDGE OVER OCONEE
At the end of the bridge, CROSS ROAD SAFELY and follow the sidewalk to your LEFT back up in between Lamar Dodd and Hugh Hodgson Schools of Art and Music and past Georgia Museum of Art to the SPLIT SCREW; this is the end of the 5K!
Cross E Campus Rd safely and head back to ODUM for treats and refreshments.
---
The Odum School of Ecology Graduate Student Organization will host the 7th Annual John K. Spencer Memorial 5K Run & Walk at 8 a.m., Jan. 28, 2023 at Horseshoe Bend (off College Station Road).
The event honors the memory of John Spencer, a graduate student at the Odum School of Ecology and River Basin Center. He was an extraordinary individual loved for his humor, generosity, enthusiasm and kindness. He studied urban streams and was passionate about freshwater ecology, conservation and ecological restoration.
No registration is required to participate in the event.
Participants can make a donation to the UGA River Basin Center's John Spencer Small Research Grants, a program that supports graduate student research with small grants up to $2,000. You can donate online using this link.
With questions, contact event organizers Fabiola Lopez Avila, fabiola.lopezavila@uga.edu; Shelby Bauer, shelby.bauer@uga.edu; Jasmine Longmire, jasmine.longmire@uga.edu; or Carleisha Hanns, carleisha.hanns@uga.edu.