Earlier this year, associate professor Krista Capps stepped into the role of associate director at UGA's River Basin Center.
Capps joins directors of science and policy, Seth Wenger and Sechindra Vallury, respectively. As a rotating position, the associate director will expand the Center's outreach and education programming and support existing initiatives.
"We are excited to welcome Krista as our new associate director," Vallury said. "We are confident that her leadership and expertise will expand our center's outreach, impact and effectiveness with academic and non-academic partners."
Capps, who recently received a Russell Award for Excellence in Teaching, has been an affiliate of the River Basin Center since her hire at the Odum School of Ecology in 2015.
But she's been interested in the River Basin Center since before her professorship at UGA.
"I've always wanted to be part of the RBC community. As soon as I heard about it, I looked into it and knew," she said. She originally learned about the RBC and Odum from their graduate students at Freshwater Science meetings in the early stages of her career.
"The UGA kids were always the coolest," Capps quipped.
She also cited Judy Meyer, the River Basin Center's first director of science and one of her professional heroes, as a huge initial draw.
"There is something about being with a really big, vibrant freshwater community… Odum and the RBC have an amazing history of freshwater science, and of women leading the frontier in that science," said Capps.
Her background embodies the missions and goals of the River Basin Center. Her current role in academia is backed by training on the policy end. She originally planned to study environmental law and interned in Washington, even testifying in front of Congress.
"Having that kind of appreciation of policy—how policy is made and the people who are involved with that—has been really helpful," she said. But it ultimately wasn't for her. "I immediately saw that's not where I was going to be in my happy place."
Now, her happy place is rivers, labs and even wastewater systems.
Education outreach: Looking ahead
As associate director, Capps will kick off the Water Dawgs program this summer, a paid internship and training program that will expose high school students to the field of freshwater science and new careers in STEM.
Later this month and in June, between 20 and 25 high school students from the Athens Community Career Academy will participate in the inaugural round of the program.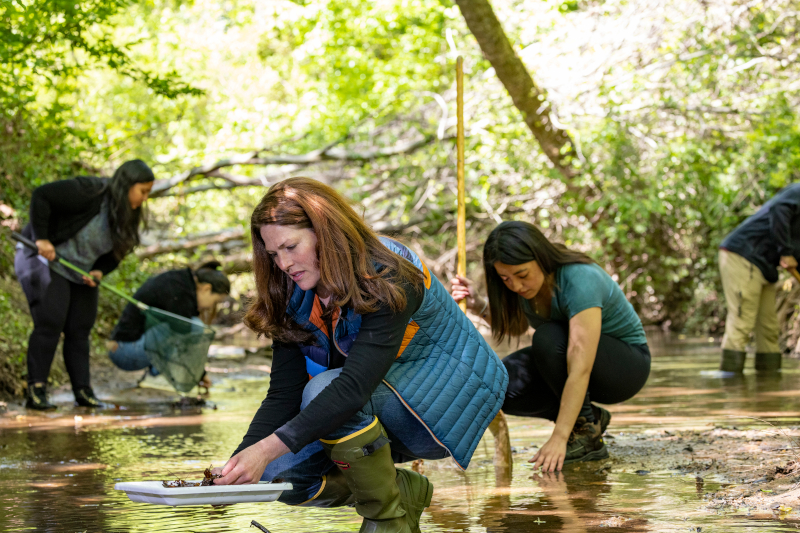 The program will train students Georgia's Adopt-a-Steam protocols and in how to work in community science water quality monitoring groups. While Capps spearheaded the project, graduate students and RBC student affiliates Denzell Cross and Crystal Pendergast will serve respectively as the primary educator and administrative coordinator for the program.
And Capps is looking to expand beyond just the Water Dawgs program.
"I'm particularly excited about supporting educational programming, building on the experience that I have as an undergraduate educator, and supporting professional development activities for graduate students—those who want to go into academia and those who don't," she said.
She's also interested in providing more educational resources for stakeholders around the world who want to learn about water, with an eye to get them involved with conservation, management and monitoring of rivers and streams at their local level.
Capps is excited about what's next.
"The RBC is examining and appreciating its well-established roots, but we are also investing time to consider the future about where we will go and grow," she said. "It was a really good time for me to get involved and support and enhance new and existing program areas that I'm really excited about."